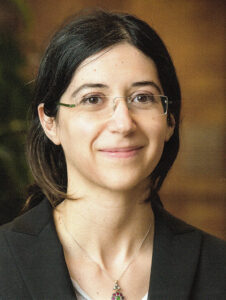 DR. DINA RAHHAL
is Board certified in Hand Surgery through the American Board of Surgery and is an active member of the American Society for Surgery of the Hand.
Dr. Dina Rahhal has been practicing hand surgery in the DFW area since 2009, initially as an Assistant Professor at the University of Texas Southwestern Medical Center in Dallas, Texas, and then with Texas Health Resources in Arlington, Texas as a member of  Orthopedic Medical Specialists. She purchased the Frisco Hand Center in 2020 from Dr. Timothy Allen and she is delighted at the opportunity to assume Dr. Allen's practice and shares his commitment to high quality medical care, as well as clear, friendly, and informative patient communication.
Dr. Rahhal completed her fellowship training at the well-recognized Christine M. Kleinert Institute for Hand and Microsurgery, an affiliate of the University of Louisville School of Medicine, before beginning private practice.
Dr. Rahhal's practice of hand and wrist surgery encompasses all types of hand and wrist injuries, including sports and work related injuries such as fractures, ligament tears, and tendon injuries. She also treats degenerative conditions like arthritis, Dupuytren's contracture, as well as nerve injuries and nerve compression syndromes such as carpal tunnel syndrome.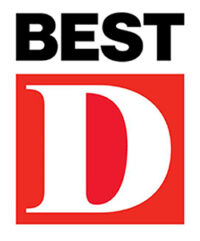 Dr. Rahhal is honored to have received D Magazine's "Best Doctors" recognition as one of the "Best" hand surgeons in the greater Dallas area based on peer review. Dr. Rahhal greatly values this recognition as a hand surgeon practicing in Collin County.
New patients are welcome. Please provide us with any test results or imaging studies that have been completed previously to aid us in your care.
Our focus is all aspects of care from the wrist to the finger tips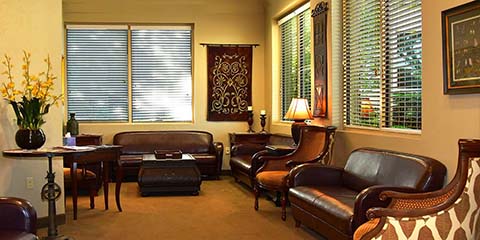 Treatment of all areas of Wrist & Hand injuries and disorders
Carpal tunnel syndrome
Sports injuries
Work injuries
Arthritis care
Dupuytren's treatment including the Xiaflex injection protocol
Fractures and sprains
Tendonitis and trigger digits
Nerve injuries
Convenient Procedures and Treatments
In-office Surgery Available
Warm and Caring Physician
In her years of experience as a hand and wrist surgeon, Dr. Rahhal has developed a reputation as a warm and caring physician who listens and communicates well with her patients. A sampling of her consistent 5-Star review ratings by patients whom she treated as a hand surgeon with a prior employer appears at the right.
Dr. Rahhal welcomes new patients and those returning for treatment. All existing patient medical records remain for her treatment and your access.
Everyone at Frisco Hand Center looks forward to our patients receiving attentive, quality care with each procedure, treatment and visit.
Our Central Frisco location is easy to access from North Dallas to Sherman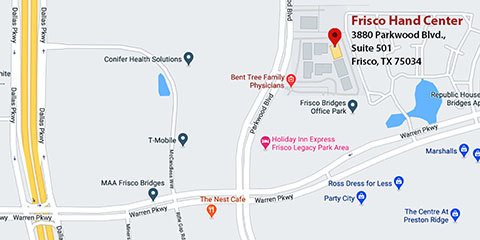 Frisco Hand Center serves patients from Allen, Carrollton, Dallas, Far North Dallas, North Dallas, Richardson, Frisco, Prosper, Lake Dallas, Lewisville, Little Elm, McKinney, Melissa, Plano, Ponder, Prosper, Sherman and The Colony, north Texas.